Baby Moments Review from Facebook
Melissa Rees5 star — ★★★★★Wednesday, March 29th, 2017 at 5:39am
Facebook
SET IN THE HEART OF OXFORDSHIRE, WE OFFER A MAGICAL 4D BONDING EXPERIENCE BETWEEN YOU AND YOUR BABY IN OUR STATE OF THE ART SCAN CLINIC. WE OFFER EARLY SCANS, SEXING SCANS, BONDING SCANS. WE COVER BERKSHIRE, WILTSHIRE AND OXFORDSHIRE. WE CARRY OUT GENDER SCANS, 4D SCANS, EARLY PREGNANCY SCANS, AND GROWTH SCANS
Baby Moments Ltd shared a link.Tuesday, March 28th, 2017 at 2:49pm
More review  Facebook  Links  :
https://www.facebook.com/pregnancyscan/reviews?ref=page_internal
https://www.facebook.com/scan4d/reviews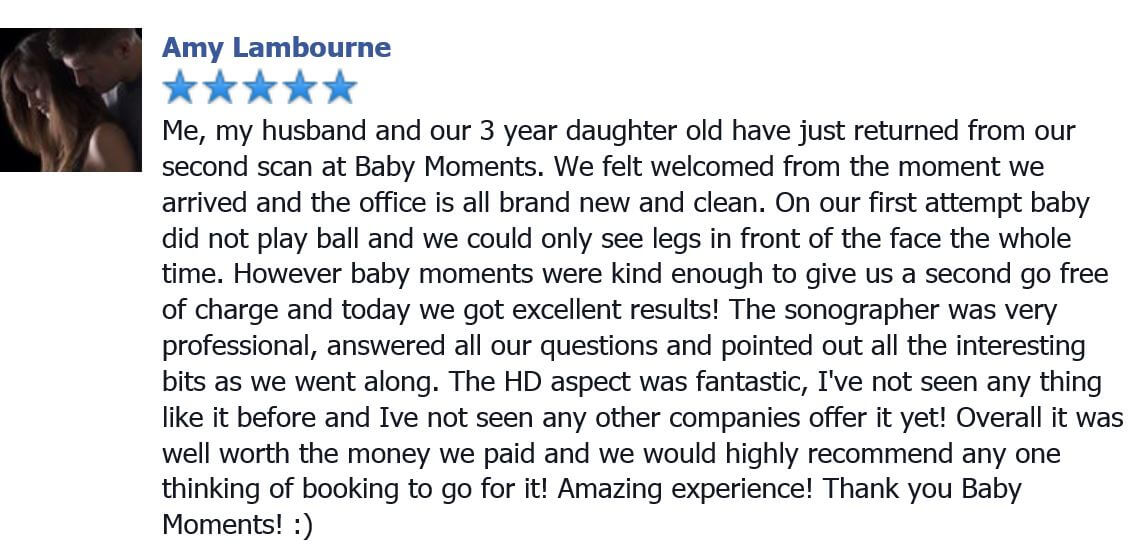 Facebook Review
 Indy Rose Elkin – "We had our scan here today. Rang up on the day and the managed to fit us in.AMAZING. We found out we were having another little girlie. It was so welcoming, with a lovely atmosphere. Hope to be back for another scan later on. Thanks again x x x"
Lashanna Sanderson – "I had my scan here on Saturday and the service was fab and they still saw me even though i was late and they were jam packed with other pregnant ladies, my sonographer didn't rush me. The scan room was warm and comfortable i coukd have fallen asleep!, I loved that the Jelly they used was warm instead of freezing cold like in the doctor's office, the HD live images were Amazing and so real me and my husband and 2 year old were very impressed and went away buzzing!!! Thank you xx"
Emma Peck – "Had the most amazing experience at baby moments. Staff were lovely and friendly and was able to get some fantastic images and also a fantastic DVD of my little boy. Would definitely recommend to others! Thank you baby moments!!"
Rebecca Flain – "Myself and my boyfriend visited Baby Moments for a 4d/ HD Live scan yesterday at 29 weeks+1 day. The quality of the pictures and dvd are amazing. We are Super happy with the service provided and felt welcome as soon as we walked through the door. This experience was well worth the journey from Milton Keynes instead of using a local business! It will be a great keep sake to show our little man when he is older! We would highly recommend Baby Moments to anyone looking to have a additional scan. Thank you again for a great experience, Keep up the fab work!!!"
Terri Turner – "My husband and I had an amazing experience at baby moments. With a modern and clean environment the personal touch is a guarantee, the staff are warm and welcoming and prices are reasonable. Cynthia has also been my sonographer at routine scans, one of which was this morning and she always has a professional but friendly manner. Highly recommended xx"
Laura-Marie Reiszner – Had a HD live scan today and I couldn't be more then happier with the results! Even though little miss wasn't playing ball to begin with, persistent from the lady paid off and we had some lovely images. Couldn't recommend these guys more.
Charlotte Hearne – "I would highly recommend going to this company for extra scans. I have been for 3 throughout my pregnancy and have been very happy with the service that has been provided. All the staff are very welcoming and are happy to accommodate for the whole family. If I could afford more scans I would be going for more. Thank you for a great experience."
Toni-Leeann Ellens – "Fabulous service. such a friendly relaxed atmosphere, highly recommended"